Rent a Portable Ice Rink For Your Next Event!
Are you planning a corporate, mall, or party event?  Consider a Portable Ice Rink to transform the entire look and feel of your event.  All Year Sports Galaxy offers nationwide (& global) portable synthetic ice rink rentals for any size event which can take on a number of different themes and styles.
Some of the Events We Have Set Up Recently
Say for example you are looking to blow your guests, employees, & partners away at your next corporate event.  All Year Sports Galaxy can set something up like we did for this corporate event:
Small Corporate Event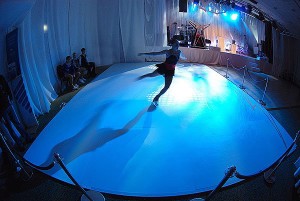 This was a small indoor portable ice rink that we put together which featured professional ice skaters who enchanted the guests with an amazing performance, which we also provided for the event.
This next event was a much larger outdoor portable ice rink rental that All Year Sports Galaxy set up in Montreal.  This event featured a live hockey match with referees and a live audience.
Montreal Live Hockey

This type of event requires much more planning and funding than the small corporate event featured above and is more suited for large open city environment.  We can set up any size ice rink big or small!
The New Jersey Devils Fan Fest required a large size outdoor ice rink for their fans to celebrate their local hockey team and All Year Sports Galaxy delivered:
New Jersey Devils Outdoor Rink

This large rink set-up allows for fans and community members to skate and have fun right outside the Devils stadium
This last event falls somewhere in between a small portable ice rink indoor rental and a large one.  This indoor rental was for a corporate event, in which the skating rink was the center piece of the event.
Larger Indoor Corporate Event

Some of Our Extras
Not only do we provide the rental and installation of portable synthetic ice rinks we also provide some fantastic extras that will help transform your event into a full blown show!
A Full Ice Skating Show!
We can set up a full Ice Skating Show with professional ice skaters, you can choose the skaters for your event with pictures/bio available upon request.  There are several different themes with music and costumes available!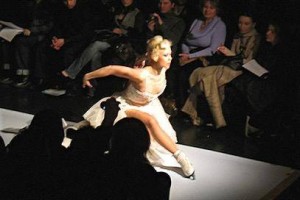 Ice Skating Lessons!
We also offer Ice Skating lessons for any of your guests that would be interested, featuring professional instructors and equipment for rental.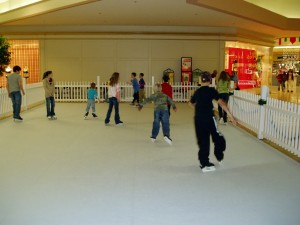 Some of our other extras include:
Logo Branding
Tents
Subfloor for uneven areas
& Themed Décor!
So the next time you're planning an event, consider a portable ice skating rink from All Year Sports Galaxy!