Many people think that renting a portable synthetic ice rink for an event or area can be a complex process but here at All Year Sports Galaxy we make it simple and smooth!  Founded by world-class retired professional Ice Hockey player Vadim Slivchenko in 2007, All Year Sports Galaxy has become the leader in Synthetic Ice Rink Rentals.  With our simple 5 step process we can help you quickly get started with your next Ice Rink Rental, below is a short outline of how it works!
Step 1 – First Things First:
In the initial phase of the process we begin with our most important question, how long would you like to rent the portable ice rink?  There are essentially two types of rentals, short-term and long-term and this helps us determine the price and strategy for the ice rink rental.  Our options vary from a one-day, weekend, or long-term rentals.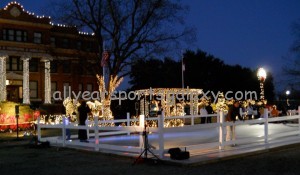 Step 2 – Share The Basic Details:
This step involves giving us the 411 on all the details for your event.  The main questions in this phase are where and when your event will be taking place.  All Year Sports Galaxy can supply a synthetic ice rink for your needs almost anywhere in the world! And although synthetic ice rinks can be popular around Winter Time we can accommodate for your needs year round.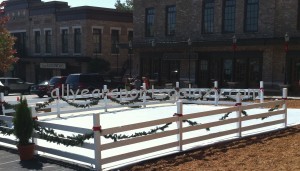 Step 3 – Time to Customize:
This is where things get interesting! Now we start getting into some of the more in-depth questions to make sure that we get it just right.  The biggest question at this point is how many people are invited or are expected to arrive?  This will help us determine the type and size of ice rink that we will be supplying for you.  Below is a basic chart that we use to help us determine the size of the rink to provide: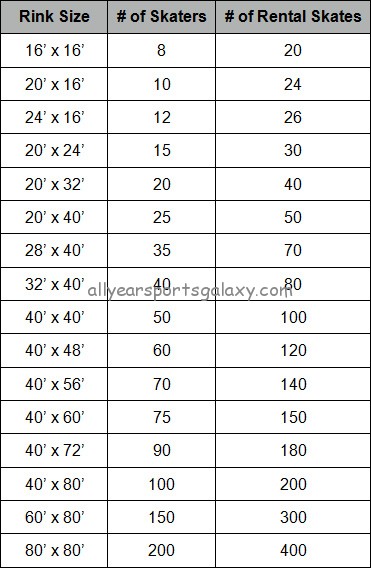 Step 4 – The More the Merrier!
All basic rental packages include the portable ice rink, fencing, music, lighting, & special effects.  With that said we also offer a variety of optional items to help make your even unforgettable! Some of our more popular options include:
Logo branding on skating surface

Skating shows by professional figure skaters

Ice skating lessons

Subfloor for uneven areas

Themed Décor

Tents

Giant Screen with Projector

Generators

Heaters

Real snow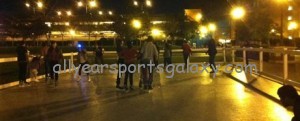 Step 5 – Get your FREE Quote!
Now that we've determined all the details for your event it's time to get your Free quote!  This can be done by simply filling out our Online Request Form or by giving us a call at 888-605-6180.