Welcome to All Year Sports Galaxy!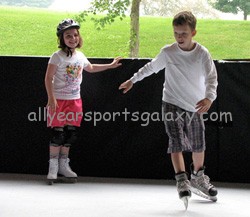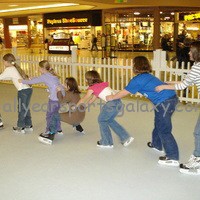 What we do? We provide everything you need to host your own ice skating event using our state-of-the-art synthetic ice rink. Whether for family and friends or for customers and employees, for short-term or long-term rental, a large rink or small, we make your event a fun experience for everyone. Ice skating is the perfect focal point for a fabulous party or major publicity event!
How we work? We are not a franchised company. We are an independently owned business who cares about our customers. Unlike other rental agencies that may deal with a central call center, we deal directly with our customers on a one-on-one basis.
All Year Sports Galaxy, LLC offers complete package deals for Synthetic Ice rink Rental. All rinks come complete with ice surface, fencing, skates in different sizes, special effects, insurance, operators inclusive. All Year Sports Galaxy is the only provider of rinks with subfloor used for soft and uneven surfaces such as grass or gravel. We can build any size and shape of the rink for your next event! Anytime, Anywhere, Any size! Quality and safety is our goal!
Being that we are on such a close-knit basis with our customers, we can devote the time necessary to answer any and all questions, as well as give our utmost attention to everyone's needs. We handle all of our customers and issues on a personal level. All Year Sports Galaxy, LLC will assist you with strategies and security and public safety considerations. We will help to make your event success! Contact us for more information. And please book early, since we have limited time and rinks available. We are currently accepting bookings for 2013 and 2014.